Automated Laser Geometry Measurement System for Plates, Strips and  Slabs.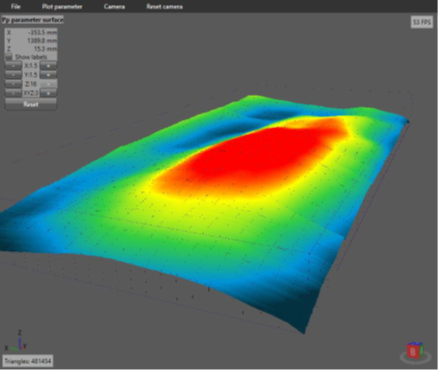 Dear Customers and Partners! We are glad to present you our new product!
Equipment for Non-contact, Automated, Geometric Measurement of the Length, Flatness, Width, and Camber "GEOMETRIX-PL", is designed to work in the technological flow of production of plates, sheets or slabs of steel, aluminum, brass, copper, etc.
The inspection of the material is carried out in a noncontact manner, in dynamic mode, directly on the process line on the existing mill roll line. This is made possible by the use of a modern measuring system, which includes precision mechanics, sets of laser 2-D profilometers, a calibration station, and a computer management system that implements extremely efficient algorithms for processing information flows.
System Essentials
Measurement mode is automatic.
Determining the maximum deviation from flatness of any type (concave, bulge, undulation, squareness), defined at a given meter of length or width of the sheet: ≤ ±1 mm/m;
Determining the width of the product in the given part: ≤ ±1 mm;
Definition of Camber, defined on one run meter of the edge: ≤ ±1 mm/m;
In-line Wall thickness measurement;
Measuring the speed-length of the roll: laser contactless.
Work mode: continuous, designed for three shifts.
We proud to Inform you that GEOMETRIX-PL systems have already been put into operation at leading enterprises in Russia.
Soon we will post the full information of GEOMETRIX-PL, but for now don't hesitate to contact us.